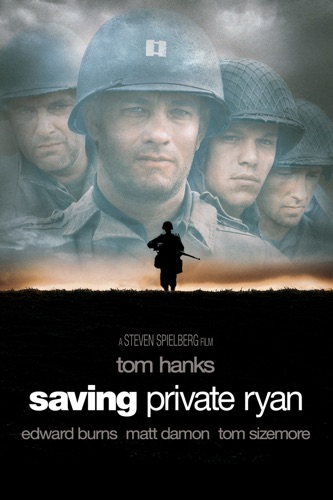 Steven Spielberg directed this powerful, realistic re-creation of WWII's D-day invasion and the immediate aftermath. The story opens with a prologue in which a veteran brings his family to the American cemetery at Normandy, and a flashback then joins Capt. John Miller (Tom Hanks) and GIs in a landing craft making the June 6, 1944, approach to Omaha Beach to face devastating German artillery fire. This mass slaughter of American soldiers is depicted in a compelling, unforgettable 24-minute sequence. Miller's men slowly move forward to finally take a concrete pillbox. On the beach littered with bodies is one with the name "Ryan" stenciled on his backpack. Army Chief of Staff Gen. George C. Marshall (Harve Presnell), learning that three Ryan brothers from the same family have all been killed in a single week, requests that the surviving brother, Pvt. James Ryan (Matt Damon), be located and brought back to the United States. Capt. Miller gets the assignment, and he chooses a translator, Cpl. Upham (Jeremy Davis), skilled in language but not in combat, to join his squad of right-hand man Sgt. Horvath (Tom Sizemore), plus privates Mellish (Adam Goldberg), Medic Wade (Giovanni Ribisi), cynical Reiben (Edward Burns) from Brooklyn, Italian-American Caparzo (Vin Diesel), and religious Southerner Jackson (Barry Pepper), an ace sharpshooter who calls on the Lord while taking aim. Having previously experienced action in Italy and North Africa, the close-knit squad sets out through areas still thick with Nazis. After they lose one man in a skirmish at a bombed village, some in the group begin to question the logic of losing more lives to save a single soldier. The film's historical consultant is Stephen E. Ambrose, and the incident is based on a true occurance in Ambrose's 1994 bestseller D-Day: June 6, 1944.
The mission is a man.. As U.S. troops storm the beaches of Normandy, three brothers lie dead on the battlefield, with a fourth trapped behind enemy lines. Ranger captain John Miller and seven men are tasked with penetrating German-held territory and bringing the boy home.. Saving Private Ryan Wiki
Enjoy
$32 off
on your first stay at travels. Claim your $32 Airbnb free credit by
clicking here!
Do you like saving private ryan applications? Please share!
not a drop
Good movie I knew Tom Hanks acting stood among the best modern age Hollywood has to offer but I never imagine a role of a WW2 U.S.army infantry captain given a mission right after surviving the odds against a soldiers making the beach on D-Day in the first wave the spectacular interest getter kicking off one of my all time favorite war movies thanks to Hanks realistic performance.Of course any high level WW2 movie involving Nazi Germany going be surprisingly filled with excitement .Take no prisoner unless given the orders or apart of the mission.A situation faced with the captured German soldier let off the hook then double back to show allegiance to his Fuhrer.I'm not hard to please it's about two more WW2 movies I've seen I say a little better plot and action also had to settle with four stars .If loaning out this movie the same as recommending to a friend I have.
ChromeDOTexe
Please watch this amazing Film What a great movie don't need to even say anything, just watch it.
Dark Coast
A masterpiece. Arguably Spielberg's best film. A rare example of a motion picture that truly transcends cinema. A moving piece of cinema that all should experience.
mcgin 73
Saving private Ryan Best war movie hands down
escudrinador
Leguaje Please, in Spanish... Thank you Spanish, Spanish, Spanish Thank you so much
The Critic2354
What Can I Say This is the greatest WW2 movie out there u rate this under 5 stars then u don't know what a good movie is!!
NirkOne
One of the true greats It is a great movie and plot. Tom Hanks and the cast knock this epic thriller out of the park. There is no romance or beauty in war. Violence is just that. War is hell. Truth be told, it is a great movie that deserves it's place in time.
Christian Wright
10/10 Hands down the best, most realistic movie of all time.
nick1991mac
4K review To whom it concerns, This is not a review for the film itself but the remastered 4K version that was just released. I listened to other reviews about how great the 4K edition was however in my honest opinion, other than colors, it did no such improvements to the film. The picture is often mushy, hiding any detail.
BR3TT16~
Great movie This is one of my favorite movies, it is so good.👍
Keegan Polley
Must Watch This Movie! This movie is not only the greatest one I have ever seen but the amount of attention to detail is amazing. Not even an hour into the movie and you already get a scene that shows Czechoslovakian people fighting as Nazi's. It would be a mistake to not watch this movie but don't be like that other reviewer who got disgusted by blood in a war movie 😂.
left888
GREED GREED GREED Once again iTunes shows how greedy they are, asking $20 for a low quality compressed movie that is available for $4.99 on blu-ray at Walmart. The greed this company is inundating us with is egregiously is amusing.
Ryan06453
YUCK!!!!!!!! SOOOOOO MUCH BLOOD 🤢🤢🤢🤢🤢🤢🤢🤢
seenbyMichael
Heart wrenching. Painfully graphic. Losing buddies to save an unknown soldier in the time of war only because he, the unknown soldier has to be shipped home. Well worth the time to watch and feel. Not for those under 18.
Jjhassddskg
STFU I rented the hd version and all it showed was a green screen. Waste of 5 bucks
Bigfoot#swag
Amazing This is the best movie in the whole world
kootenay1
awesome Fricking best war movie ive ever seen!!!
5murf : )
This movie is amazing I love this movie its the best by the way its not downloading on my phone. Could u help me with this or something
Adam licciardo
Sweet movie Awesome movie
beavis 1
Best Movie ever I Love this Movie so muck and is a very Good Film
This movie is a masterpiece

Film critic01
This is a real World War Two film that gets it right. It's 10/10 historically accurate and is the most realistic World War Two film ever. Steven Spielberg has done an amazing job 10/10. The action sequences were entertaining, the sound effects were beautiful, the realism was beautiful, the visuals were nicely crafted, the editing was done professionally and very well and this atmosphere of the soldiers fighting in battle was entertaining and kept me at the edge of my seat. Worth 100%.
Moving film

AnnaBradbury123
Loved this film. Makes you think about all we take for granted
Best Movie

Jess Mero
One of the best movies I have seen in a long time. Full of action and true stories making the film great to watch. Make sure you buy!
Best D-Day depiction

Konstantinos Palaeologos I
The most vivid depiction of Omaha sector on France's northern shores of Normandy. On 6th June 1944 this most heavy requirement of brute numbers spearheaded the end of the fascist regimes time, to the hilt of the embedded sword 10 months later, the end of the war in Europa. Mars/Venus :- I say Mars. Au Revoir! Chris
As close as it gets ….on film.

Indyman81
Undoubtedly the greatest war film ever made. Couldn't believe that in '98 Shakespeare In Love got Best Picture over this masterpiece. Worst Oscar decision in Hollywood history. Spielberg was impeached by Hollywood 'bigwigs' for potentially being too successful at the time.
Rent

Billy19876
Was renting this and they didn't give me 2 days as it said. They took it off me early! I want my $5 back.
Best movie

ScottF117
This is the best war movie
FINALLY

Cody Stebbings
Finally iTunes have put one of the best films ever made available to buy. Thank you so much iTunes. This is an amazing movie a must see to anyone who loves war films.
Saving private Ryan review

Procodgamer123
This is like the best movie I have ever seen very real!!! :)
Very real

Ww2 freek
Steven, your the best war movie director in the world. D day felt so real, it would have been a night mare to be there.